Dr. Aldo J. Perrino, DDS - Merrick Cosmetic Dentist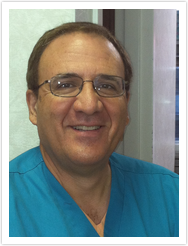 Dr. Aldo Perrino began practicing dentistry in 1981, after graduating from the SUNY Buffalo School of Dental Medicine. Prior to dental school, he attended Chaminade High School, then graduated Magna Cum Laude from SUNY Albany in 1977. Dr. Perrino gained experience working in both Queens and Suffolk County before opening his own private practice in Merrick in 1995. Since then, he has created a truly unique dental practice where patients are welcomed like family.
Dr. Perrino continues to educate himself on new advances in dentistry and dental technology. He is excited to offer services such as Invisalign, Lumineers and Botox injections. Dr. Perrino is respected by his colleagues, and well-regarded in the community at large. He is also a golf enthusiast, and enjoys traveling, dining and listening to electric guitar
Dr. Perrino was honored when his daughter Melissa decided to follow in his footsteps and become a dentist. He proudly welcomed Dr. Melissa Perrino to the practice in 2012, and the rest is history!